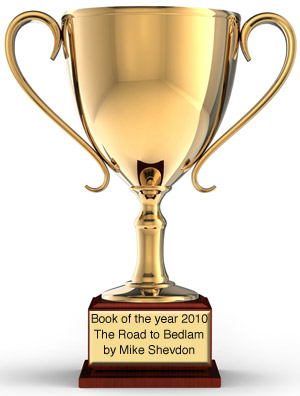 Well, the polls have closed and the votes counted and I am delighted to announce the SciFi & Fantasy Book of the Year for 2010 is: ~
The Road to Bedlam
Close behind was Pink Noise by Leonid Korogodski and Amortals by Matt Forbeck (also published by Angry Robot Books)
I would like to thank everyone who voted in the poll for making it such an interesting and engaging race, and everyone who voted for The Road to Bedlam in particular for your support and enthusiasm.
My thanks and appreciation go to Ant at SFBook.com for hosting the competition in sometimes difficult circumstances and for sticking with it and sorting it all out in the end.
I am told that the poll will run again next year, so look out for twelve new books to vote for.
Thanks, everyone.